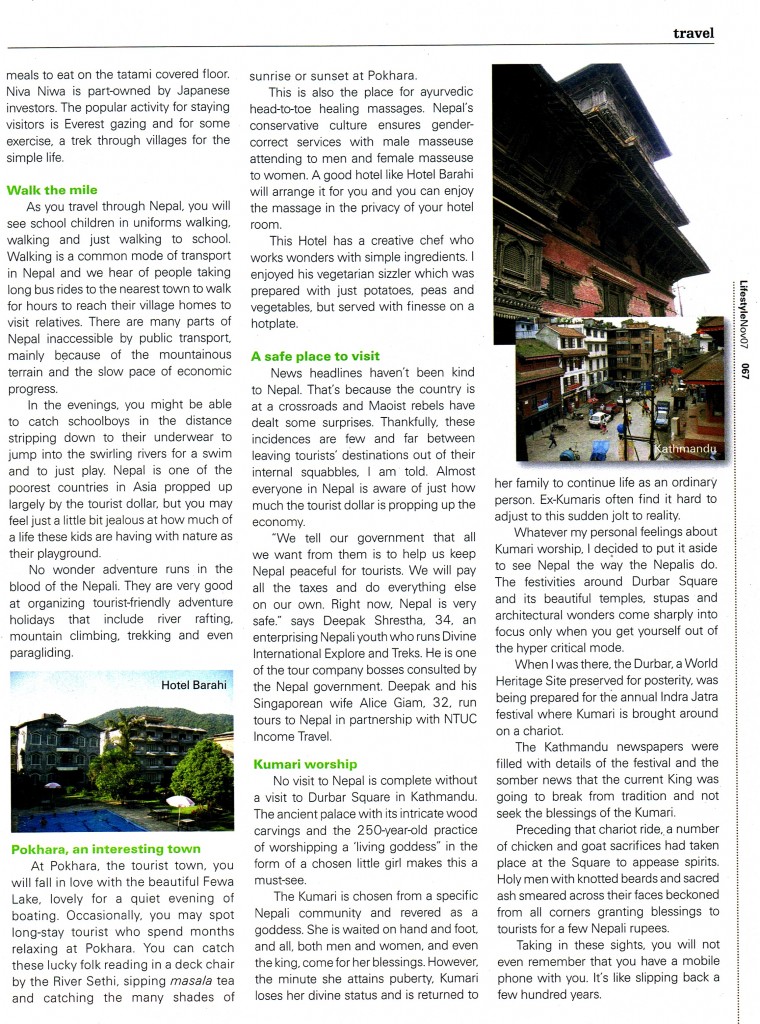 In the face of Everest
Can life get any better than enjoying hot tea and savouries on a balcony overlooking Mount Everest?
You don't have to be a mountaineer or trekker to get within sight of this majestic mountain. Just fly to Nepal, one of the most beautiful places on Earth.
Time moves slowly in Nepal. The shock of that snail pace hits city folk almost as soon as we land at Tribhuvan International Airport in Kathmandu valley, just a few kilometers from the capital. It's such a thrill to walk out of the plane on the tarmac towards an ancient building against a scene of majestic mountains and blue skies.
After airport clearance- which happens in a relaxed fashion, let me warn you – you will be driving into the city through dusty roads that have not changed much from the days of the horse carriage. Welcome to Nepal for a trip back in time!
The air gets considerably cleaner and the scenery much more spectacular as you head from the capital to the many interesting places in the world's only Hindu kingdom, each about five hours drive away. Along the way, take in the natural beauty as you go. Make time to spend at least a night at the Royal Chitwan National Park near the southern Terai region, close to the Indian border. This is also one of the few places in the world where elephants live in the wild, withsomehelp from conservationists who work on an elephant-back safari and cross rivers and forests as you come close to rhinoceros and deer. Don't worry, a mahout is always with you.
Hot tea and the high life!
At nagarkot, a resort village atop a mountain accessible via a winding mountain road, you can get a oeek at the Everest, weather permitting. This is also whre hot masala tea, spicy vegetable pakhoras and your date with peace awaits you. Every room at the resort, the Niva Niwa, overlooks the Langtangmountain range of the Everest (Sagarmatha or Head of the Ocean as the locals calls it).
"Don't bother to switch on your mobile phones. You cannot get any signal here", the manager of the rustic village resort cheerfully informs us. If you've ever wanted to cut yourself off from the rest of the worldto perhaps write a novel, this is the place for you. The resort is considered modern by Nepalis standards. But Singaporeans might find itrather basic. Food's great at this place and you can order Japanese meals to eat on the tatami covered floor. Niva Niwa is part-owned by Japanese investors. The popular activity for staying visitors is Everest gazing and for some exercise, a trekthrough villages for the simple life.
Walk the mile
As you travel through Nepal, you will see school children in uniforms walking, walking and just walking to school. Walking is a common mode of transport in Nepal and we hear of people taking long bus rides to the nearest town to walk for hours to reach their village homes to visit relatives. There aremany parts of Nepal inaccessible by public transport, mainly because of the moutainous terrain and the slow pace of economic progress.
In the evenings, you might be able to catch schoolboys in the distance stripping down to their underwear to jump into the swirling rivers for a swim and to just play.Nepalis one of the poorest countries in Asia propped up largely by the tourist dollar, but you may feel just a little bit jealous at how much of a life these kids are having with nature as their playground.
No wonder adventure runs in the blood of the Nepali. They are very good at organizing tourist-friendly adventure holidays that include river rafting, mountain climbing, trekking and even paragliding.
Pokhara, an interesting town
At Pokhara, the tourist town, you will fall in love with the beautiful FewaLake, lovely for a quiet evening of boating. Occasionally, you may spot long-stay tourist who spend months relaxing at Pokhara. You can catch these lucky folk reading in a deck chair by the River Sethi, sipping masala tea and catching themay ahdes of sunrise or sunset at Pokhara.
This is also the place for ayurvedic head-to-toe healing massages. Nepal's conservative culture ensures gender-correct services with male masseuse attending tomen and female masseuse to women. A good hotel like Hotel Barahi will arrange it for you and you can enjoy the massage in the privacy of your hotel room.
This hotel has a creative chef who works wonder with simple ingredients. I enjoyed his vegetarian sizzler which was prepared with just potatoes, peas and vegetables, but served with finesse on a hotplate.
A safe place to visit
News headlines haven't been kind to Nepal. That's because the country is at a crossroads and Maoist rebels have dealt some surprises. Thankfully, these incidences are few and far between leaving tourists' destinations out of their internal squabbles, I am told. Almost everyone in Nepalis aware of just how much the tourist dollar is propping up the economy.
"We tell our government that all we want from themis to help us keep Nepal peacful for tourists. We will pay all the taxes and do everything else on our own. Right now, Nepal is very safe." Says Deepak Shrestha, 34, an enterprising Nepali youth who runs Divine International Explore and Treks. He is one of the tour company bosses consulted by the Nepal government. Deepak and his Singapore wife, Alice Giam, 32, run tours to Nepal.
Kumari worship
No visit to Nepal is complete without a visit to Durbar Square in Kathmandu. The ancient palace with its intricate wood carvings and the 250-year-old practice of worshipping a 'living goddess'in the form of a chosen little girl makes this a must-see.
The Kumari is chosen from a specific Nepali community and revered as a goddess. She is waited on hand and foot, and all, both men and women, and even the king, come for her blessings. However, the minute she attainspuberty, Kumari loses her divine status and is returned to herfamily to continue life as an ordinary person. Ex-Kumaris often find it hard to adjust to this sudden jolt to reality.
Whatever my personal feelings about Kumari worship,I decided to put it aside to see Nepal the way the Nepalis do. The festivities around Durbar Square and its beautiful temples, stupas and architectural wonderscome sharply into focus only when you get yourself out of the hyper critical mode.
When I was there, the Durbar, a World Heritage Site preserved for the posterity, was being prepared for the annual Indra Jatra festival where Kumari is brought around on a chariot. The Kathmandu newspapers were filled with details of the festival and the somber news that the current King was going to break from tradition and not seek the blessings of the Kumari.
Preceding that chariot ride, a number of chicken and goat sacrifices had taken place at the Square to appease spirits. Holy men with knotted beards and sacred ash smeared across their faces beckoned from all corners granting blessings to tourists for a few Nepali rupees.
Taking in these sights, you will not even remember that you have a mobile phone with you. It's like slipping back a few hundred years.